2020 was an unprecedented year for everyone; yet, as it comes to an end, our team at dexFreight wanted to take a look back and share our progress and highlights throughout the year.
Traction: 2019 vs 2020

389% increase in the number of new carriers registered
307% growth in truckload bookings
1153% growth in truckload freight spend
3% month-over-month growth in drayage bookings (released in Q4 2020)
Over 15.5 million shipments posted
$1.7 billion in dollar amount posted
---
Closed Seed A Round
After a challenging year of many changes, dexFreight closed $1.2 million in seed A funding. The round was backed by strategic industry players and angel investors.
---
Launched Drayage Functionality
On Mid-2020, we launched and started testing capabilities to process drayage shipments. dexFreight's integrated drayage workflow coordinates and automates container transportation using smart contracts from booking to payment. Drayage features have been so well-received by users, that it has become a pillar in our go-to-market and international expansion strategy.
Commercial agreement with Hutchison Ports ICAVE

dexFreight and container terminal operator in Veracruz, Mexico, Hutchison Ports ICAVE, have executed a memorandum of understanding. Both companies will work together to design and implement ICAVE's digital transformation initiatives to provide customers with end-to-end container transport services from terminals to warehouses. Effectively taking to market, dexFreight's blockchain and machine learning-powered drayage and truckload solutions in Mexico. ICAVE plans to increase the visibility of containers, reduce empty trucks, and wait times at gates while thriving customer satisfaction.
---
dexFi – Invoice Financing
In partnership with Centrifuge and the Maker Foundation, we launched the industry-first decentralized freight invoice financing solution. dexFi enables freight brokers and carriers to access instant short-term financing at low rates. As a faster, programmable, and lower-cost alternative to traditional invoice factoring, dexFi is already proving to be a powerful incentive for trucking companies and will be a big driver of user adoption. Learn more
---
dexRate – Smart Pricing Tool
This year, we rolled out an innovative price-estimating and prediction tool for dexFreight users. dexRate is powered by machine learning and allows brokers and carriers to discover fair freight rates based on dates, equipment, and shipping lanes, among other parameters. This tool also enables users to predict freight rate fluctuations, enabling benchmarking, and better decision making.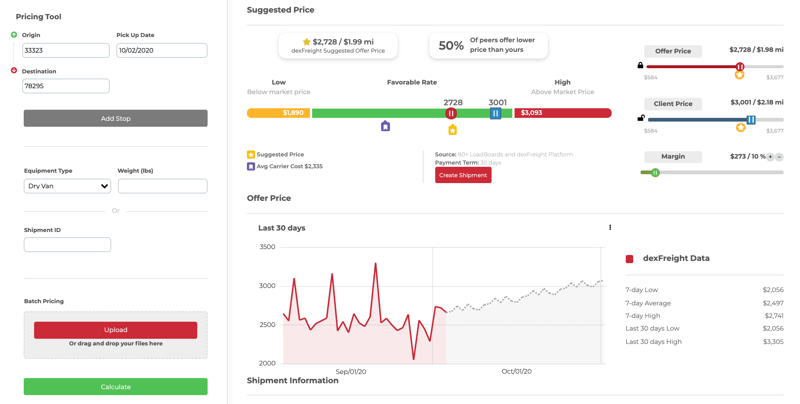 ---
Thought Leadership
Spreading the word about blockchain
We continue to believe that education will be an important driver for the adoption of blockchain technology, especially in the B2B space. That is why are thankful to participate in multiple events throughout the year, here are some: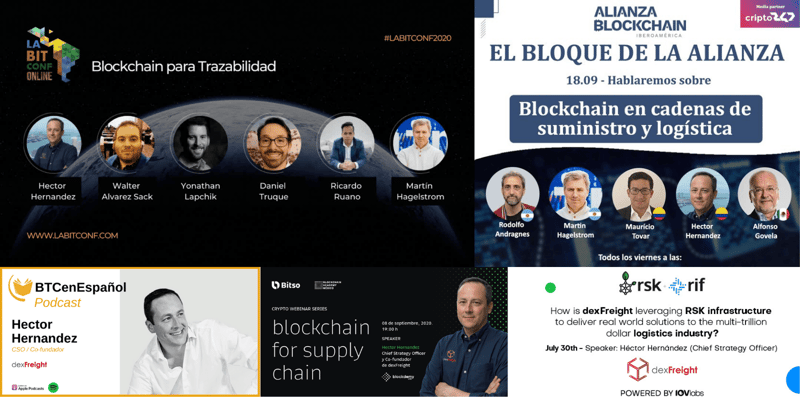 The Book About Blockchain: How companies can adopt blockchain to leap into the future
As contributors and promoters of blockchain adoption, we are proud to announce the upcoming launch of "A Book About Blockchain" written by Dr. Rajat Rajbhandari, Co-founder and CIO of dexFreight. The book will help c-level executives to better understand this novel technology and apply it to their companies. The book is expected to be available on Amazon and other locations after December 20, 2020. Interested readers can pre-order here.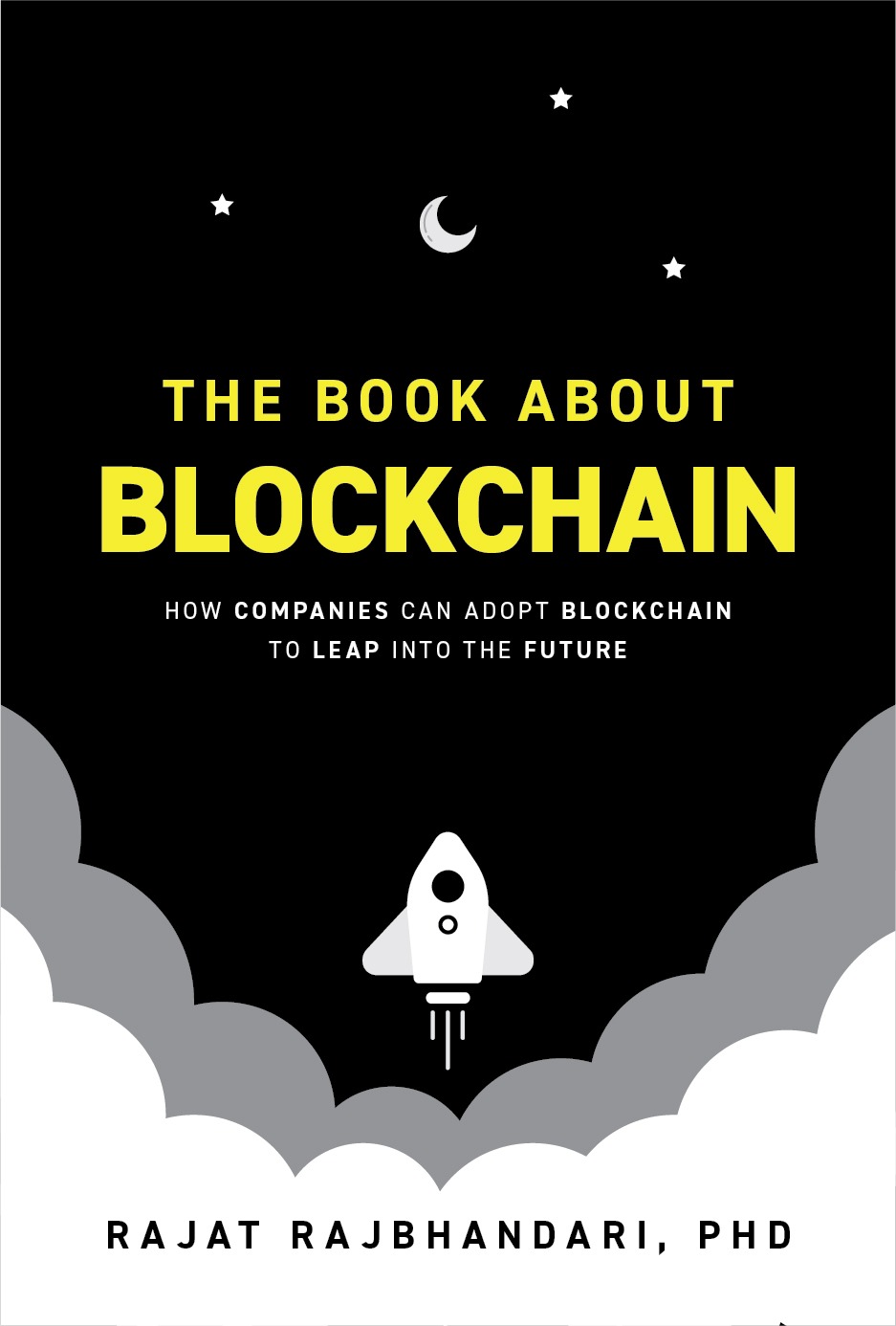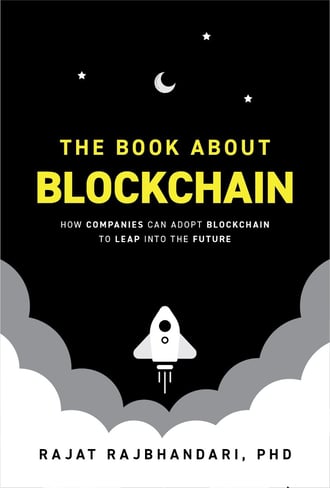 ---
Industry Awards and Recognition
For 3 consecutive years, dexFreight has been recognized as a FreightTech 100 company. This award is given by FreightWaves magazine, the leading publication in the supply chain space, to acknowledge the most innovative and disruptive freight technology companies in logistics. According to FreightWaves, they received over 500 nominations from industry leaders and experts, from where they selected the top 100 companies. Read More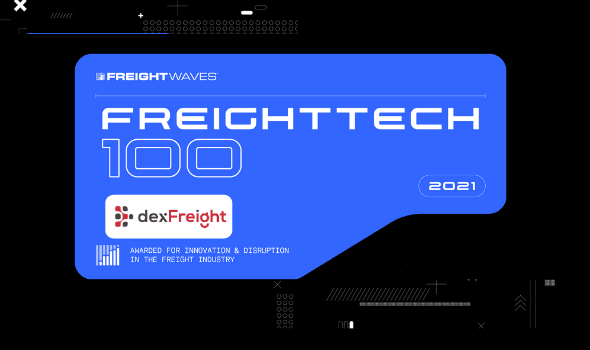 Additionally, this year dexFreight was also recognized by Supply & Demand Chain Executive, as an SDCE 100 company, one of the top innovative projects that deliver bottom-line value to companies of the supply chain.
---
Blogs and Press Releases